Parts Specials
Battery Replacement Special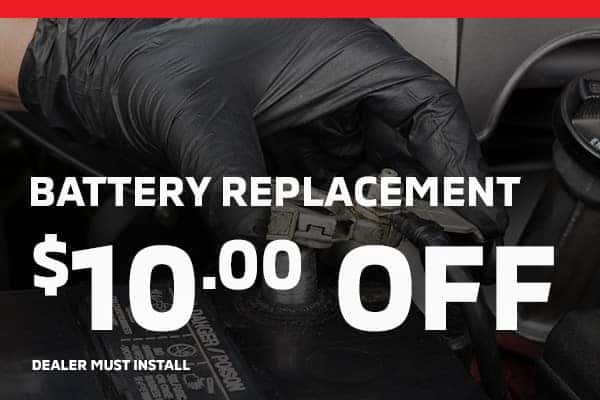 Dealer must install battery, see service advisor for details.
Longwood Mitsubishi
615 N US Highway 17 92, Longwood, FL
Service: 407-704-2843
Battery Replacement Special
Save on Vehicle Maintenance with Mitsubishi Parts Coupons
Is your vehicle in need of a little TLC? Maybe you want to customize your ride with opulent accessories. As a preferred Mitsubishi parts dealer, Longwood Mitsubishi offers a rotating selection of Mitsubishi parts coupons on Mitsubishi OEM parts that you can depend on for many years to come. There are many reasons to choose Mitsubishi auto parts directly from the manufacturer over aftermarket alternatives. If you are searching for Mitsubishi Outlander parts and accessories or are looking for ways to upgrade your Eclipse Cross, we have you covered.
Benefits of Mitsubishi OEM Parts
Why should you choose Mitsubishi auto parts produced by Mitsubishi? While some aftermarket parts may be a bit more affordable initially, they are oftentimes not worth the investment. Mitsubishi OEM parts tend to last longer and need to be replaced less frequently, making them the smart choice for savvy shoppers in Orlando and Sanford. Listed below are just a few of the perks associated with choosing Mitsubishi OEM parts.
OEM parts are manufactured by the same automaker that made your vehicle, not a third party. Because of this, they are an exact replacement for the part that has worn out. Aftermarket options are created to work in a wide range of vehicles from different manufactures. This is why the part you choose may not fit perfectly in your vehicle. Ill-fitting parts could damage your car over time.
Mitsubishi OEM parts come with a warranty. This is not the case for a lot of aftermarket parts. In fact, using aftermarket parts could end up voiding your vehicle warranty.
Shopping for Mitsubishi OEM parts is quick and convenient. Generally, you will find just one replacement option for the part you need, so you do not have to worry about evaluating dozens of options to find what your vehicle requires. You can even order parts online!
Thanks to their longevity and our Mitsubishi parts coupons, opting for genuine Mitsubishi auto parts is a smart investment.
Contact Longwood Mitsubishi for More Information
Shopping for Mitsubishi Outlander Sport parts and accessories? You've come to the right place. Don't forget to check out our Mitsubishi parts coupons today so you can save on our high-quality genuine Mitsubishi auto parts. Make us your preferred Mitsubishi parts dealer in Longwood. Contact us today if you have any questions.